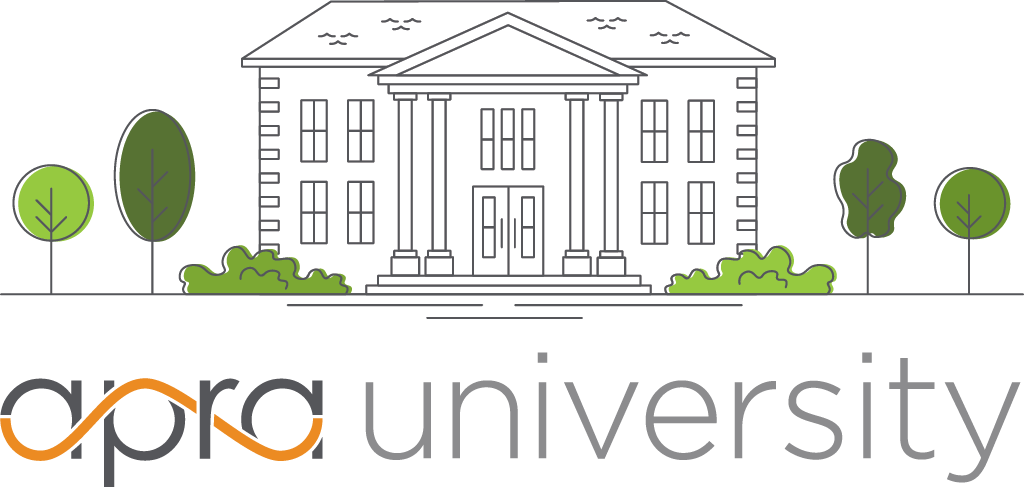 Frequently Asked Questions:
What types of educational products are available?
There are many options for eLearning. All options are available for viewing and filtering through the Catalog function and include Upcoming Webinars, Recordings, Resources, and Courses. The topics and level of experience vary by program.
How do I login?
Your login information to Apra University is the same as the credentials you use for the Apra website. Please log into your Apra profile first. Once logged into your Apra website profile you will be able to login to Apra University.
How do I register for an upcoming webinar?
Registration is free for live upcoming webinars. Once registered users will receive instructions how to join the session live the day of the event. If users are unable to join the session live, there will be a recording available for a small fee.
What do the skill levels represent?
Level I: Focus is on learning; developing through on-the-job experience; and/or applying and enhancing knowledge or skills.
You have knowledge or understanding of basic techniques and concepts.
You have limited experience gained in a classroom and/or as a trainee on-the-job.
You are able to complete the skill but help or review from an expert may be required.
Level II: Focus is on demonstrating expertise and strategic insight; applying knowledge to broad organizational/professional issues; demonstrating consistent excellence in applying knowledge or skills.
You can perform the actions associated with the skill without assistance or oversight.
You are capable of coaching and/or managing others and communicating complex nuances in the application of the competency.
You are known as an expert in this area. You can provide strategy, troubleshoot and answer questions, make decisions, and influence change related to this area of expertise and the field where the skill is used.
How do I purchase a recording?
Purchase a recording by clicking "register" and then proceeding to your cart. After payment is processed, recordings will appear within the My Dashboard section of Apra University.
I purchased recordings from Apra University prior to March 2021, where can I find my past purchases?
To access files or recordings purchased from Apra University prior to March 2021, log into the Apra homepage. Navigate to Past Purchased Files under the Resources tab on the homepage. Under the Purchased Files header on the right side, select link of a purchased file. You will then see the option to view the file or recording or download to your desktop.
An additional way to view your transactional history of files or recordings purchased prior to March 2021 is to log in to the Apra homepage and navigate to "My Profile" under the "My Options" link in the site's top right corner. Once in your Apra profile, click the "Transactions" tab. You will see links to all files for past purchases from Apra University. Not that you can also download files or recordings from your profile.
Contact info@aprahome.org if you are experiencing issues locating a past purchased file or recording. Additionally, contact our team if you have questions about downloading and access pas purchased files.
Can users still purchase recordings after a live event takes place?
Yes, live event recordings for most webinars will be made available for purchase through Apra University.
How long are the recordings?
Recordings and live webinars fall between 45 - 90 minutes, the majority of recordings are 60 minutes long.
For how long do I have access to purchased content?
All registrants will have indefinite access to the purchased recordings and resources. Should anything change with product availability, you will be notified.
What if I can't attend live, will the recording be provided?
Yes, live event recordings will be made available within 48 hours in the product catalog, depending on the event there may be a cost to access the recording.
Does Apra offer refunds for online learning purchases?
Apra does not offer refunds for any of the on demand education. There may be varied cancellation policies for specific events and courses.
Do you accept purchase orders for online education?
No, Apra does not accept purchase orders for online education.
How do I purchase a product for multiple team members, or on behalf of someone else?
Where Can I Find My Learning History?
When logged into Apra University, navigate to the 'My Dashboard' tab on the side menu of your screen.
How do I define my interests to ensure the most accurate recommendations are displayed under the 'Recommended for You' section?
To define your interest areas navigate to 'My Profile' on the menu tab. Please use the 'Interest Categories' section to the right to adjust your interests. Please indicate your level of interest in each category as follows: 0 = low level of interest and 5 = high level of interest. This information will be used to recommend content that interests you the most. When finished, be sure to click the "Save" button.
What are the system requirements for accessing a webinar?
Most live Apra webinars are run through Zoom and include closed captioning for attendees. You can test your connection here.
Additional Questions? Contact Apra at info@aprahome.org
| Access Date | Quiz Result | Score | Actions |
| --- | --- | --- | --- |